Hey, cheered on moms!
I thought I'd write another quick post on what's been going on for us as a family lately, and what I've been up to behind the scenes.
First of all, we're in the process of relocating to another town! We had to move because my husband was laid off, along with the rest of his department. He's a mental health therapist who loves his job and helps so many people.
We put our house on the market and accepted an offer on it a couple of days later.
Looking for a new home is really fun for me. But it only lasted a few weeks.
Ry and I toured five houses in person before we landed on one we were seriously considering. We set up a second visit to decide if we wanted to put an offer in on it, and brought my kids and my parents too! While we were there, Ry and I had a quick discussion that we both had a lot of peace about the home and it felt right for us.
Later, when looking at one of the upstairs bedrooms, I saw through the window that my mom had taken the kids outside, and they were playing with the little girl who lived next door! So…we found a great house in our new town and our offer to buy it has been accepted. And we already love our neighbors.
#thatwasfast
My husband is also loving his new workplace and hasn't missed a beat in helping others through counseling. We're living at my parent's farm in the meantime, and having a ball.
Let's go fly a kite!

My kids attempting to escape in the forest

playing in the sandbox

Kai and his new BFF

monkey business

a controlled prairie burn

(temporary) homeschooling

the barn

these boots are gonna need a polish

Annie dog

out for a ride with grandpa

first outdoor ice cream of the season
We have had a few downs along with our ups, of course. Moving with kids has its challenges, which is why I'm really thankful we are moving to a familiar place and can live at the farm for awhile.
Blogging Updates and More
I started a side business that's been growing pretty quickly by word-of-mouth. I'm designing for bloggers and loving it! If you could use a little help in that area, visit my work with me page. I can design logos, customize the layout of your blog, create graphics as needed, and more!
Also, I was super excited that even in the midst of neglecting my blog a bit, Feedspot chose to feature it in their top 100 Christian Wife Blogs. That's an honor!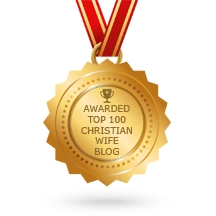 This little blog is starting to gain some new readers, and I just want to welcome you all and thank you!
If you'd like to hear more chit-chat from me, all you have to do is sign up for my newsletter. You'll get several freebies, starting with my eBook called Moms of the Bible, which is a quick and easy read. It's a great way for us to get to know each other.
At the risk of sounding like I'm signing a yearbook…
Stay in touch! Always be you! I'm so glad you're my friend! Have a good summer! (Don't worry, I'll still be posting this summer. I just got carried away.)