Hooray for Friday Favorites! It's time once again for all of the internet to share the things that made our week just a little bit better. And to do a little victory dance. And to get the song "My Favorite Things" stuck in our heads. (Sorry.) So here are a few things I am loving lately, as I wrap up a another busy week with my fantastic family of four.
ONE
Relaxio's White Noise Generator App (Android)
I almost wanted to make this app the only thing on my list for Friday favorites. Then I remembered things like the fruit of my loins and other pleasant aspects of life, so here's a nice, brief, casual mention of my new favorite app. It's not like I'm obsessed.
Relaxio is a free white noise app that helps with sleep, but also creates background noise perfect for focusing on things like studying, working, blogging, reading, etc. The unique things about this app are: It contains 16 different sounds, you can mix and match those sounds and adjust their volumes individually, you can save your favorite mixes, set a timer for how long you want them to run, and it's just very intuitive and fun to play with.
Right now I'm listening to a mix I created that sounds like I'm sitting next to a fireplace at a busy cafe. Last weekend Ry was away at a retreat, so the kids and I slept at my parents' farm, and I got a great night's sleep thanks to a mix of rain and a blowing fan. I'm going to use it whenever I sleep in different places. And whenever I'm writing. Or reading. You get the idea.
Here's a link! Or just search for "Relaxio" or "White Noise Generator" in the Google Play app section. Have fun trying it out!
TWO
My son's school pictures
I don't know whether to laugh because Kai seems way too young for "school pictures" (he just turned four) or cry because my son's sweetness has been captured forever and he's growing way too fast! I'll go with both.
We didn't get digital rights, but here's a sweet tractor pic instead. I'm just so excited to have real prints and get some in the mail to grandparents. We don't do that enough!
THREE
My daughter's chatter
Sylvie has started to create her own baby babble that delights me on a regular basis. Try saying "ladle" over and over again and you'll be kind of close to the sounds she makes when she has something to tell me. I'm almost sad that sometime soon these will be real words.
I took a not-so-great video of her to try to capture it:
FOUR
A last minute Mother's Day idea
How cute is this sign?! I found this on Instagram and knew I really wanted to share it today. They are handmade by an Etsy shop called RusticProvisionsCo.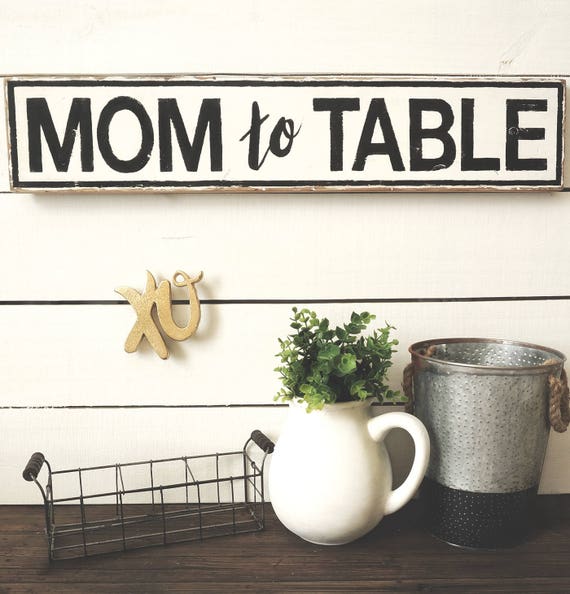 I asked the owner about shipping, and he said if you order today, you'll get it in time for Mother's Day. And THEN he said that if you do purchase this sign (or perhaps your hubby? wink, wink), mention my blog Fantastically Four in the comments, and you will get a 50% discount on a return purchase.
So, to summarize, you can get this awesome farmhouse style sign in time for Mother's Day and pass along a 50% discount to your mom or yourself on another purchase. Just so you know, there's nothing in it for me here, I'm just sharing things I love. Hooray for discounts!
FIVE
Favorite posts from lovely blogs
The group this week is a little all over the place. But trust me when I say these are fantastic and worth a read!
My Mom is Always the Funniest in Group Texts by Oh, Laura Darling
You will laugh.
Tips for Moms of Little Ones by Keri Lynn Snyder
You will nod your head in agreement or pin for future reference.
How to Make a Washi Tape Bible Journaling Bookmark by Embracing the Lovely
You will want to make one too–no artistic skills required.
Tell me what you're loving this week. And have a happy Friday!